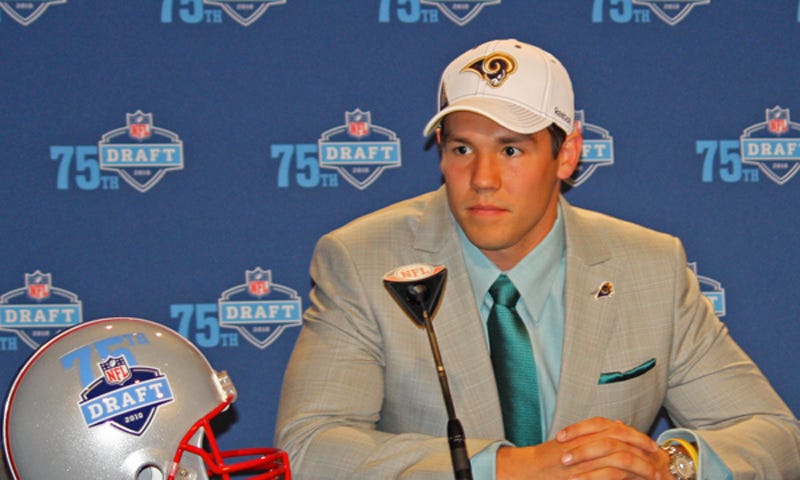 How much is an average quarterback worth? I'll give you a hint: it is not $17.61 million. What if I told you that he's improving, and that he's a former first overall pick about to enter his age 27 season? What if I told you that his team owned a probable top ten draft pick in the next draft, in addition to a pick in the teens, and they could attempt to get a transcendent talent in a great quarterback draft? What if he missed half this season, his supposed breakout season, with a torn ACL? This is the problem with Sam Bradford, that he doesn't have a definite value and we don't know enough to decide what that is.
Before the most recent NFL Collective Bargaining Agreement there was no limit on how much draft picks could be paid. While lower picks were generally pretty standard, the contracts demanded by the elite picks rose to absurd levels, with first overall picks receiving upwards of $50 million. Sam Bradford was the last of those, signing a contract in 2010 for six years, $78 million, with $50 million guaranteed. Matt Stafford and Cam Newton were drafted first in the years before and after Bradford, and both of them immediately cemented themselves as good-to-great quarterbacks in the league. Bradford, however, has not pulled off the same successful transition. The next two years will see him receive $31.59 million, and the question is whether he'll earn it.
Bradford so far has been essentially a league average passer in his career. Entering this season he had thrown for 45 touchdowns to 34 interceptions and was throwing for 6.3 yards per attempt, numbers more representative of Mark Sanchez than Matt Ryan. His team wasn't much better, with two 7 win seasons sandwiching one injury-shortened disaster in 2011. This season saw Bradford improve somewhat, maintaining his YPA while bettering his TD-INT ratio to 14-4 and being sacked less than he ever has in his career. It wasn't the leap that many had predicted, but it was marked progression befitting a quarterback poised to enter the top half of the league. In one twist of a knee, all that progression was put on hold.
The confusing part of Bradford losing half a season has been what the Rams have done so far without him. Kellen Clemens is generally regarded as a poor quarterback, with the potential to be downright bad, and he took over as the starter in Week 8 when Bradford went down. The Rams have since gone 2-2 with, stop me if you've heard this before, almost league average quarterback play. There are definitely stylistic differences between the two, with Bradford being sacked less and Clemens throwing deep with more success, but the journeyman has been nearly as good in relief of the former first overall pick. This is the first time we have seen what a competent quarterback can do with the same options afforded Bradford, and there hasn't been as large of a difference as the Rams may have hoped for.
What hurts the Rams is how much they've build around Bradford as their franchise quarterback. They brought in Roger Saffold and Jake Long as tackles and spent 10 picks over the last four years on tight ends and receivers, capping that stretch by trading multiple picks to move up to select Tavon Austin with the eighth selection this April. The ground game has been spent on too, with the last two drafts bringing in three new ball carriers to take the pressure off Bradford and the passing game. St. Louis has a solid defense led by an elite defensive line, and yet they haven't been able to reach the league's upper echelon.
Bradford's contract pays him almost on the level of Romo, Stafford, Rivers, and Cutler. He hasn't been as good as any of them, but he is also only 26 years old, and has a long time to go in this league. The Rams will have a very good chance to draft a first round quarterback next year, whether it be Mariota, Manziel, Derek Carr, or anyone else. If they vote to stick with Bradford for another year they will have the opportunity to draft a premier left tackle (Jake Matthews?) or receiver (Marquise Lee?) and still add to the defense. St. Louis has a lot of options, but first they have to decide whether Sam Bradford is worth what they're about to pay him. Here's a hint: he's currently not.