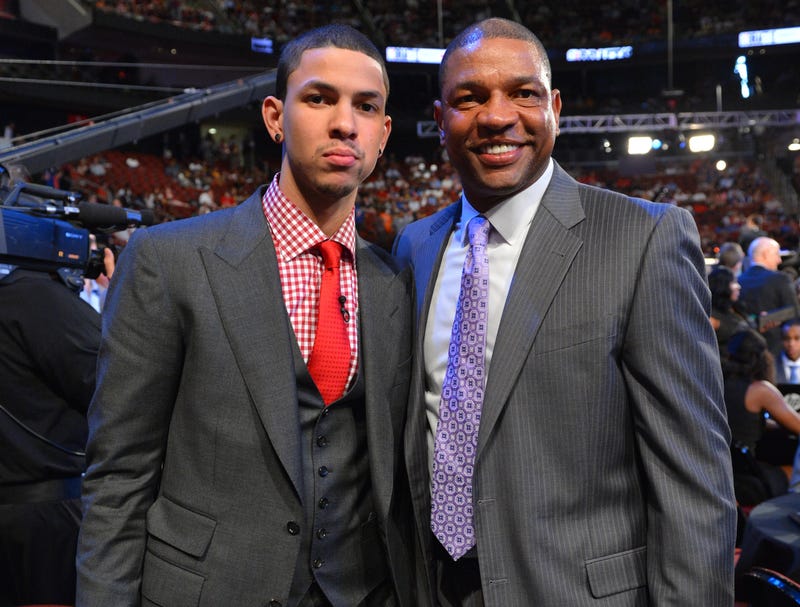 Any way you decide to list the best players in the NBA, you will always come to the same conclusion; great players come from high draft picks. When these draft picks miss it can set franchises back by half-decades, which makes it so important to see players enjoy immediate success. Austin Rivers and Otto Porter looked like they would fall on the miss side of that category, but the playoffs have proved a different playground altogether, as each has improved mightily on their regular season results. Whether their high levels of play portend more in the future is questionable, but right now the Wizards and Clippers don't really give a shit about that. They are here to win, and Austin and Otto are gigantic reasons why they're still alive.
The charts you'll see in this post are set to the league by percentile (the outer ring is the best/top in the league) per 36 minutes, and adjusted by position(G/F/C). RelDefRtg is the difference between a player's net defensive rating and that of his team's. Postseason stats are sorted against regular season stats to preserve context, and all stats are from NBA.com
When the Wizards won the third pick in the 2013 draft, it appeared they had their backcourt set for the next decade. Adding slick Otto Porter to rising gunner Bradley Beal and human typhoon John Wall was supposed to catapult them to to the top of the East for years, but then, instead, Otto Porter kind of sucked. Like many young players, he was way behind the speed of NBA defense.
He rebounded like a guard and shot like Josh Smith, with more turnovers than assists in his rookie season. This year he learned how to create turnovers at a league-average level, but the Wizards defense was consistently worse with him on the floor, and his rebounding numbers were near the bottom of all forwards. The last three weeks though have been a different story. His defensive rating has caught up to that of his team's, and his rebounding numbers have improved drastically. That athleticism is also showing in his increased pace, and though his usage remains low, he's finally passing well and hitting threes. Most notably, he went from playing six minutes in all of last year's playoff run to averaging 30.2 minutes per game in this one. Compared to where he was a year ago, riding pine next to Kevin Seraphin, Porter is taking a massive step up.
Austin Rivers may have only been the tenth pick in the 2012 Draft, but he was slated to go in the top slot before an underwhelming freshman year on a loaded Duke team. His scouting reports proclaimed him as an electric scorer who thrived with the ball in his hands with the size to potentially play either guard slot. He proved those scouting reports wrong in all the wrong ways. Off the bat he couldn't pass, shoot, or play defense, and years two and three brought no improvement. He was a Choose Your Own Adventure of suck. He was so bad, his dad had to trade for him so he wouldn't get sent to the D-League, so Doc became the joke of the NBA instead. Since these playoffs started though, he has turned into the electric scorer he was always supposed to be. Despite his propensity for tripping himself on his own crossovers, Austin has been chucking up shots, and he's been damn good at it. He's increased his shooting percentages and his usage rate, a rare (and good!) combination that has lead to his points per 36 entering the top 20% of all guards. His three-point percentage has risen from Dion Waiters to Klay Thompson while he's added two attempts per 36, which is flat out insane. Even his defense has improved from dreadful to average.
The easy response to all of this is that these streaks are unsustainable. Decent players on good teams are bound to play well once in a while, and inevitably the league will adjust and those radars will slide from the right side back to the left. But that's okay! Even playing well for a couple hundred minutes is really important, and showing that you have NBA level skills when everyone thought you were dust is its own level of redemption. I'm not going to spout off about Otto and Austin becoming franchise level players, but these guys are still both years younger than Draymond Green, and they clearly have the natural talent to become good players. It sure would be fun to see them keep this up.