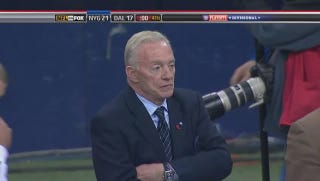 People make dumb decisions. Even people who are very smart, have trained within their chosen industries for years, and have an abundance of resources at their disposal still do dumb things. If they didn't, no one would ever get fired, and that would be no fun at all. Still, NFL general managers seem to make more indefensible decisions than they should, so here is a quick look at what not to do if you want to run an NFL team (or have a very good Madden franchise mode).
Don't overpay decent players: Erik Walden is, at best, a slightly above average edge player (outside linebacker/defensive end, depending on formation). Erik Walden signed last year for $16 million over four years with the Colts. Shaun Phillips is, at worst, a slightly above average edge player. Shaun Phillips signed last year for $1.4 million on a one year deal, and looks to command less than Walden's annual $4 million again this year. Even if Walden improves and Phillips declines, (which seems likely for Phillips, 32, but not Walden; he showed little to no improvement last year and is already 28), the Colts are not getting enough production from a player who could be easily replaced for much cheaper.
Don't pay running backs: The Carolina Panthers have very little cap space and so much to spend it on. Left tackle Jordan Gross retired, half their secondary will sign elsewhere this offseason, and they have the worst wide receiver depth chart in the league. To account for these pressing needs, they have $4.2 million in cap space, and they still have to sign their draft picks. An important part of the reason for this quandary is that former GM Dave Gettleman paid DeAngelo Williams 5yr/$43 million, followed that up the next year with Jonathan Stewart for 5yr/$36.5 million, and, with that not being enough, added Mike Tolbert for 4yr/$10 million, making their combined cap hit for this year approximately $14 million. Oh by the way, these running backs were approximately as useful as a platoon of Rashad Jennings and James Starks, who cost a total of $1.12 million last year. Side note: running backs who live up to (or exceed) their contracts tend to be excellent receivers as well. Danny Woodhead was the second most productive running back in the league last year, and he had 106 carries at 4.0 ypc.
Don't go halfway on a quarterback: Having a good backup quarterback is important. Ask the Chicago Bears about the difference between Caleb Hanie and Josh McCown for proof of that. Paying good money for that decent backup is not a good long term strategy, even if that backup happens to start a few games. Here are some cap hits for proven mediocre (or worse) quarterbacks for this upcoming year (rookie contracts excluded).
Matt Cassel: $5.75 mil, Chad Henne: $5.75 mil, Matt Moore: $5.5 mil, Josh McCown: $4.75 mil, Matt Hasselbeck: $3.75 mil, Chase Daniel: $3.4 mil. Charlie Whitehurst just got a deal for 2yr/$4.25mil, and he has 84 pass attempts in eight years.
If any of those players are consistent starters for your team, you're already in trouble. As backups, they're likely no better than drafting someone in a late round like Case Keenum or grabbing someone for the minimum like Greg McElroy, yet they make solid starter money at other positions (the Bears just signed starting DE Willie Young for 3yr/$9mil). Hell, your team could have grabbed Brandon Weeden for a mere $570,000, and he has a better career passer rating than Whitehurst! The lesson here is clearly to have your kids grow up to be backup quarterbacks.
Don't buy single-season results: Chris Johnson once rushed for over 2,000 yards in a season. He was then paid $54 million on a four year extension. For all of his other seasons he has rushed for between 1,000-1,400 yards each year. One of those outputs is worth thirteen million dollars per year, but the rest of them are definitely not. This can also extend to drafting college players as well: just ask Ravens fans about Kyle Boller, or Bengals fans about Akili Smith. Of course some players make "the leap" in a single season, but there are often easier ways of diagnosing that than just looking at only sixteen games worth of statistics. Chris Johnson happened to have the most 70+ yard carries in history that year, which neither he nor anyone else has shown as a replicable skill. Josh McCown just had a phenomenal half-season, and signed a moderate contract with Tampa to try to replicate that. He also had a historically low interception rate that is likely to rise, and he was playing with two receivers, in Brandon Marshall and Alshon Jeffrey, who happen to have spectacular timing and hands. He had never done anything remotely similar to that before, and it's likely he won't again.
Don't do anything the Cowboys are doing: Jerry Jones is great at owning the Dallas Cowboys and making them into the biggest, loudest, most profitable team in football. Jerry Jones is not good at managing a football roster. GM Jerry has a habit of overpaying veterans to come in and play at the level of a fifth-round pick (Roy Williams the safety), and he also has a habit of trading picks for players who aren't that great (Roy Williams the wide receiver). Not coincidentally, the Cowboys are continually restructuring the contracts they shouldn't have handed out in the first place, and failing that clearing enough cap space, they then have to cut people. This has a tendency to bite them in the ass, and this offseason gave a special demonstration of just how bad it is in the form of DeMarcus Ware being cut. Ware is one of the best defensive players in football and had never been hurt until last year. He was paid fairly appropriately for his talent and position, but since Miles Austin is going to cost $8.3 million to not play in Dallas, and Dan Bailey just signed for 7yr/$22.5 million as a fucking kicker, the non-decision of keeping the best defensive player in team history in his contract becomes the stupid decision to cut DeMarcus Ware and watch him play in Denver next year. What an idiot.