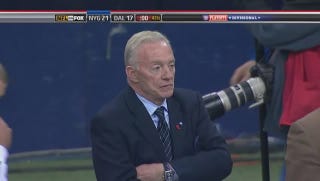 People make dumb decisions. Even people who are very smart, have trained within their chosen industries for years, and have an abundance of resources at their disposal still do dumb things. If they didn't, no one would ever get fired, and that would be no fun at all. Still, NFL general managers seem to make more indefensible decisions than they should, so here is a quick look at what not to do if you want to run an NFL team (or have a very good Madden franchise mode).
Don't overpay decent players: Erik Walden is, at best, a slightly above average edge player (outside linebacker/defensive end, depending on formation). Erik Walden signed last year for $16 million over four years with the Colts. Shaun Phillips is, at worst, a slightly above average edge player. Shaun Phillips signed last year for $1.4 million on a one year deal, and looks to command less than Walden's annual $4 million again this year. Even if Walden improves and Phillips declines, (which seems likely for Phillips, 32, but not Walden; he showed little to no improvement last year and is already 28), the Colts are not getting enough production from a player who could be easily replaced for much cheaper.
Don't pay running backs: The Carolina Panthers have very little cap space and so much to spend it on. Left tackle Jordan Gross retired, half their secondary will sign elsewhere this offseason, and they have the worst wide receiver depth chart in the league. To account for these pressing needs, they have $4.2 million in cap space, and they still have to sign their draft picks. An important part of the reason for this quandary is that former GM Dave Gettleman paid DeAngelo Williams 5yr/$43 million, followed that up the next year with Jonathan Stewart for 5yr/$36.5 million, and, with that not being enough, added Mike Tolbert for 4yr/$10 million, making their combined cap hit for this year approximately $14 million. Oh by the way, these running backs were approximately as useful as a platoon of Rashad Jennings and James Starks, who cost a total of $1.12 million last year. Side note: running backs who live up to (or exceed) their contracts tend to be excellent receivers as well. Danny Woodhead was the second most productive running back in the league last year, and he had 106 carries at 4.0 ypc.